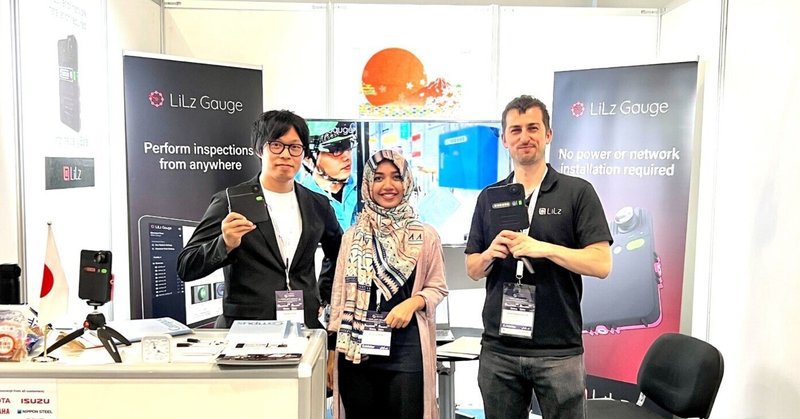 Beyond Programming: Exploring Saudi Arabian Trade Show as an Engineer
Hi! This is Sofia Neherin. Currently I am working at LiLz as a web application engineer.
LiLz, with the goal of expanding its presence overseas, has been exhibiting at various trade shows in America and Europe so far. In June 2023, LiLz had this opportunity to exhibit at the Saudi Smart Manufacturing exhibition in Riyadh, capital of Saudi Arabia which lasted for 4 days. I was fortunate enough to attend this exhibition as one of the representatives of LiLz. On this business trip, Mr. Jakub Kolodziejczyk (Kuba), CTO of LiLz and Mr. Masaki Nakao, one of our sales people in LiLz, had accompanied me. Our main objectives for this event were to showcase our product LiLz Gauge, comprehend the business prospects as well as clients in Saudi Arabia, try and enhance our networking with potential business partners for future expansion in the Middle East. In this article I will try to reflect upon my experience at the Saudi Arabia Trade Show and share my thoughts and views.
Unveiling LiLz Gauge in Saudi Arabia
When we arrived in Saudi Arabia, I was anticipating the scorching heat, but I never imagined it would be so intense that I'd feel like I was baking in the sun! The climate's extreme heat has a significant impact on their daily life, with business hours typically starting late in the afternoon and extending till midnight, allowing people to spend more time outside during the relatively cooler temperatures. Consequently, our exhibition was scheduled from 1 pm to 9 pm to make the most of the cooler evening hours.
The exhibition drew a diverse crowd from various backgrounds. We had visitors from the food and packaging industry, printing industry, gasoline and oil industry, plastic manufacturing companies, distributors, and many more.
This was a unique experience for me, as it was my first time showcasing a business product to visitors. At the tradeshow, we exhibited our flagship product LiLz Gauge, our solution to remote inspection built with the fusion of AI and IoT. Having joined the company just three months ago, I was almost well-versed about the web solutions part but had shallow knowledge about the business side, the use cases of our product and hardware specifications. Naturally, I felt a bit nervous at the beginning. But I would like to thank my teammates for being a constant support! As I observed my teammates exhibiting LiLz Gauge and replying to visitors' enquiry, my understanding got better every time. And after having a few interactions with the visitors, I found myself getting comfortable explaining our product and connecting with potential clients. We were overwhelmed with all the responses we received at the exhibition. This also helped us obtain some invaluable feedback and genuine interests from the visitors.
The four days of the event were undoubtedly exhausting, but every moment was worthwhile. I not only enjoyed the experience but also gained valuable lessons.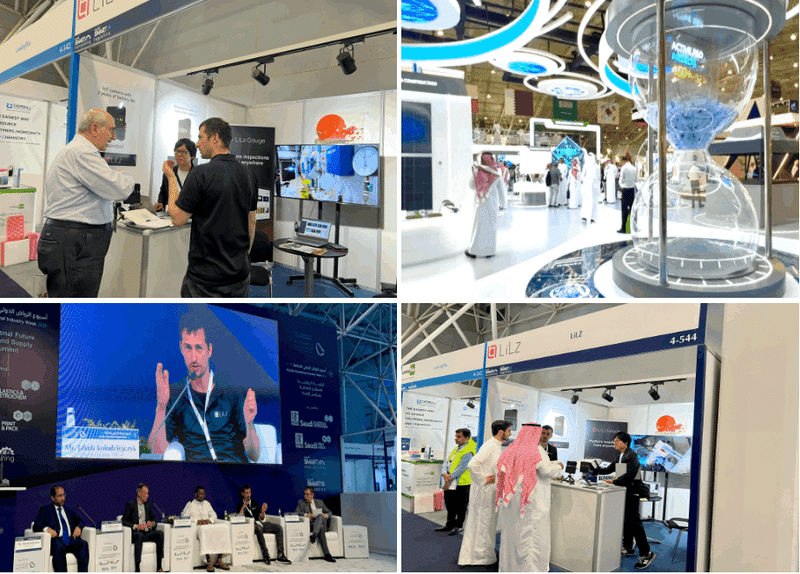 Some Potential Leads:

After the event was over, we got the opportunity to make a factory visit to a Package Manufacturing company. This visit provided me with a better understanding of how the fieldworks take place in industrial factories, how their HVAC (Heating, Ventilation, and Air Conditioning) are being monitored, what kind of problems they face while operating the machines having to physically monitor them. During our visit, we also had a chance to have a business meeting with one of the leading national IoT providers in Saudi Arabia, who expressed a keen interest in collaborating with us. This discussion helped us get an insight of the Saudi Market, including the types of solutions they currently use for fieldwork inspection purposes, the primary concerns of Saudi people, and the solutions they are expecting.
Why Engineers Should be Attending Trade Shows
Being a software engineer, where all your work remains behind the scenes, you might wonder why you need to attend trade shows as this is something that only sales or marketing people should be doing. I had the same prejudice. However, after participating in this business trip, I realized the importance of engineers' presence at trade shows. Here are my insights on why engineers should also attend such type of events:
To Improve Client Understanding:
As I was attending visitors from different backgrounds, talking to them face to face helped me understand our target customers better. I realized how cloud solutions are a big concern for many industrial companies in Saudi Arabia. Also being a software engineer, I had a vague idea of how manufacturing processes work and what could be the different use cases for LiLz Gauge. The experience I gained through this event helped me to understand different use cases for the problem we are trying to solve with our product.


To Enhance Soft Skills:
I realized when you interact with people of diverse backgrounds, it helps you develop strong interpersonal skills. Through this event, I learnt to be more approachable and proactive in initiating conversations. Exchanging ideas and gaining insights helped me boost my confidence in public speaking. Consequently it enhanced my communication skills. Sometimes inquiries from visitors might be difficult, and you might not have the answer to it, but learning how to positively deal with such situations professionally is a very important adaptability skill that I learnt through this event. I still have places to improve, but I believe it will get better gradually.


To Expand the Horizon of your Knowledge:
Interacting with the visitors helped me to gain insights into the market and existing alternate solutions in the market. This broadened my knowledge and allowed me to understand how our solution is different and unique to other solutions. During the exhibition while exchanging views with one of the visitors, I got introduced to an interesting wireless communication technology called LoRa (Long Range), and I was intrigued by its potential in our application. But learning about its limitations, I realized why this is not feasible with our application. When you cross pollinate ideas with different people, your knowledge expands, and sometimes these insights might help you to think out of the box and make something unique. Consequently allowing you to suggest new features to enhance customer experience.



To Understand Product Impact:
Attending the trade show helped me in realizing first hand how individual contributions can have a significant impact on the overall solution and how it benefits people in their fieldwork.


To Reignite the Enthusiasm for Work
When I had understood the impact I'm making, I felt more involved. I realized that it kind of deepened my bond with our company. This experience undoubtedly elevated my enthusiasm and passion for work, resulting in increased productivity and dedication.
Do We Only Work on Business Trips?
I think LiLz has the coolest team where members share a good balance of coolness and nerdiness. We believe recreation is an important part of work, and LiLz makes sure its members have a good work-life balance. So, after the event was over, LiLz sponsored short day trips for us :')
We paid our first visit to the Edge of the World, a part of the Tuwaiq Escarpment which is located in the rocky northwest desert of Riyadh. As the name goes, standing at the cliff of the Tuwaiq Mountain, surrounded by the arid landscape, it felt like we were literally standing at the edge of the world. I have seen sunsets from the sea, but it was my first time watching a sunset from the desert, high from the edge of a cliff. What an absolutely mesmerizing view it was!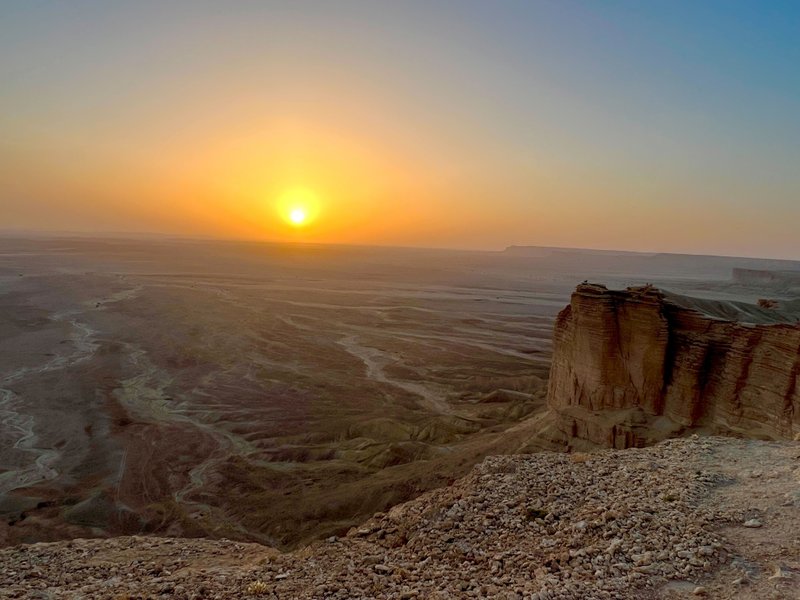 Our second visit was to the Heet cave, located in Al Jubail mountain, around 30 kilometers southeast of Riyadh. Heet cave is famous for two remarkable features in particular: firstly, its limestone formations and secondly, its underground lake that make it an ideal for adventurers and explorers. We hiked downward into the heart of the cave to the underground lake which is more than 30 meters deep. The lake used to be crystal clear in the past, but to our utter disappointment, it was not as clean as before. However, I tried to capture a picture from a cleaner angle.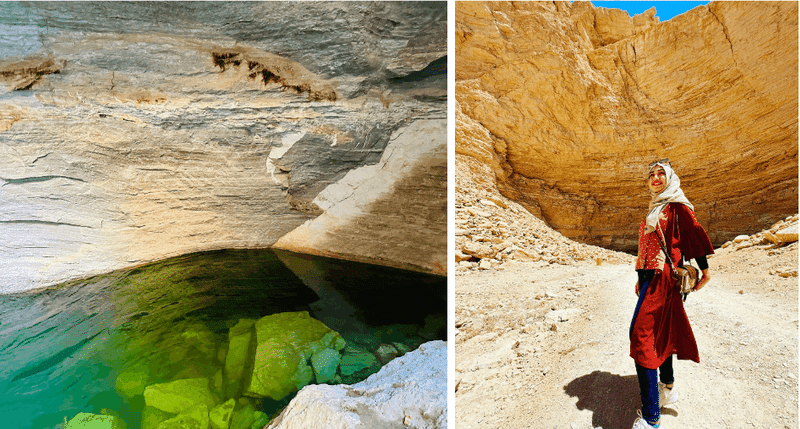 The final visit: Our final visit was to the UNESCO world Heritage site At-Turaif, also known as Ad-Diriyah, which is a historical site located in the northwest of Riyadh, the capital city of Saudi Arabia. This site holds great cultural and historical significance as it served as the first capital of the Saudi dynasty and played a pivotal role in the formation of the Kingdom of Saudi Arabia.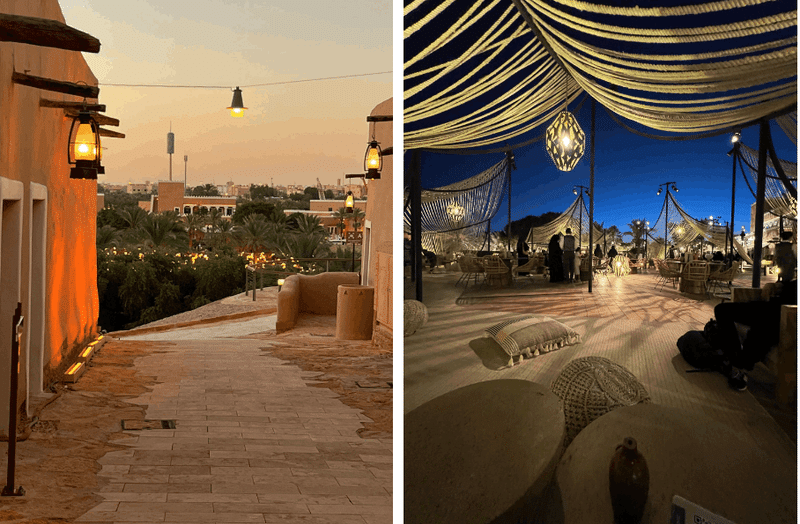 Last but not least, I must mention how delicious Arabian foods are! I gained almost 3 kgs in just a week. I just have dropped some pictures for you!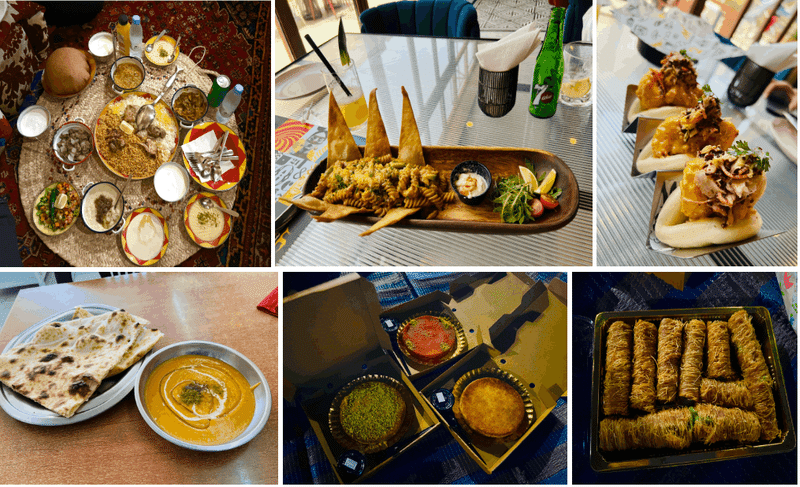 Conclusion
Overall, the tradeshow in Saudi Arabia was a truly memorable trip. The lively atmosphere, diverse visitors, and personal development opportunities made it an event I'll always cherish. Once again, I would like to express my deepest gratitude to my colleagues, for being amazing travel partners and constant support.
This event served not only as a platform to showcase our product LiLz Gauge, but also offered us a valuable opportunity to understand the inspection procedures of equipment at factories in Saudi Arabia and the challenges they face during inspections. It provided us with a profound insight into the industries in the region. This experience also made me realize the significance of such events in creating networking opportunities for all parties involved.